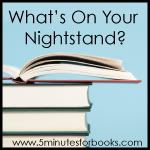 It's the fourth Tuesday of the month, and it's time for
What's On Your Nightstand?
which is hosted by the lovely ladies of
5 Minutes for Books
.
The number of books on my nightstand are increasing, but I'm sad to say that most books that were there last month are still unread. Let's take a look at my nightstand, shall we?
I'm currently reading
To Kill A Mockingbird
by Harper Lee and
Promises in Death
by JD Robb.
And I also have:
The Beach Street Knitting Society and Yarn Club
by Gil McNeil - I'm a knitter, and I can't resist reading books about fellow knitters.
The Bone Collector
by Jeffery Deaver - Okay, I have to admit that I watched the movie years ago, and I enjoyed it. But I didn't realize it was based on a novel by Jeffery Deaver and it was part of a series. Yep, I had a D'uh moment at the UBS when I found the book.
The Book of Love
by Kathleen McGowan - I read the first book of the Magdalene Line series,
The Expected One
, and loved it.
The Duchess
by Amanda Foreman - This book has been on nightstand for a long time...I really should read this one soon.
Love Mercy
by Earlene Fowler - I love Fowler's Benni Harper series, and I also read Saddlemaker's Wife. I wonder what this one will be like.
North and South
by Elizabeth Gaskell - Another book that's been on the nightstand for a while.
Outlander
by Diana Gabaldon - This will be a re-read. I've read a couple of times already, the first time I loved it and the second I wasn't all that impressed with the book. But I've heard so many good things about the series, that I'm giving it another try.
Someone Like You
by Cathy Kelly - Yep, another book that's been on the nightstand for a few months.
Things I Want My Daughters to Know
by Elizabeth Noble - I actually read a review of this book at 5 Minutes for Books and couldn't resist picking it up for a try.