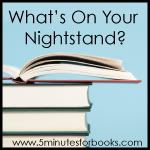 It's the last Tuesday of the month, so it's time for
What's On Your Nightstand?
I went back to last month's
entry
, and I noticed some similarities, but also a few books that I didn't read. Let's just say that I'm a very moody reader. People are always surprised on the amount of books that I take out of the library. I don't read them, half of them go back unread, and someday I hope I go back and read them. But it all depends on my mood.
Here's what I have on my nightstand.
The Jericho Pact
, I've had in my TBR for while. Eventually it will be read.
The Darkest Pleasure
, I read the first book of the series, which I enjoyed. I've tried reading previously but couldn't get into it. Yep, my mood. It's on my nightstand, so I once I read it I can pass it on to my sister. I hope she's not in a rush.
Girls In Trucks
, was a recommendation by a friend. It's looks interesting.
The Janissary Tree
, I'm reading for the
Book Awards II
challenge.
The Smoke Thief
, I'm reading for a group discussion.
Zorro
, I'm reading for
Orbis Terrarum Challenge
.
The Mambo Kings Play Songs of Love
, I'm reading for the
Book Awards II
challenge.
Acheron
, I'm a huge fan of the Dark Hunter series by Kenyon. This is the latest of the series. I find its size a little intimidating.