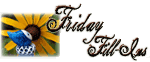 This week's
Friday Fill-Ins
questions are:
1.
My family
is high up on my bucket list.
2. My favorite quote is
"How do I love thee? Let me count the ways.
I love thee to the depth and breadth and height
My soul can reach, when feeling out of sight
For the ends of Being and ideal Grace
."; it's from
Sonnets From The Portuguese by Elizabeth Barrett Browning
.
3.
Reading
inspired me to start blogging.
4. Strawberries are best
with whipped cream
.
5.
I was having a beach adventure
in the last dream I remember having.
6. The most enjoyable time to go for a walk is
early evening
.
7. And as for the weekend, tonight I'm looking forward to
watching TV with my husband
, tomorrow my plans include
swimming and shopping
and Sunday, I want to
enjoy Father's Day with my children and husband
!